Okay, so here is the deal, tomorrow I am hosting the video for the sweetest local indie rock festival to rock Southern Louisiana in years. That's right, Geronimo Fest presents its second annual music festival madness with all the sweetest local bands from New Orleans to Lafayette as well as some amazing professional musicians from Denton, TX also known as Snarky Puppy (which just stayed with me the past week again) as well as Oso Closo (which is staying with me tonight and played my birthday party last year). Also, the lineup includes Love Hog (which also has played a couple of my house parties), MyNameIsJohnMichael, Caddwhompus, Fleur de Tease, and more . It's gonna be ridiculous.
The lineup is as follows:
http://www.myspace.com/geronimoproduction
"A CRUSADE TO SAVE THE INDIE MUSIC SCENE"
Geronimo Festival
SATURDAY, MAY 30, 2009
30+ bands-6 stages-1 day!
The Geronimo Festival is devoted to bringing the independent music scenes from Lafayette and the surrounding areas together for an all day festival in downtown Lafayette.
*****VENUES/STAGES + OFFICIAL LINE-UP*****
*CEDAR (Deli) STAGE (Parking Lot by Bordens): (1-7pm)
1. Uma Zuma (1-1:45)
2.
Love Hog
(2:15- 3)
3. Dude vs. Bruh (3:30- 4:15)
4. ImagineIAM (4:45-5:30)
5. Vagabond Swing (6-7)
***BLUE MOON SALOON: (12-12am)
1. Julie Williams Band (1:15- 2)
3. Giant Cloud (2:30- 3:15)
4. Ginger Lee (3:45- 4:30)
5. Arbor Vitae (5- 6)
6.
Snarky Puppy
(6:30- 7:45)
7.
MyNameIsJohnMichael
(8:15- 9:30)
8. Quintron and Miss Pussycat (10:15-12)
*BLUE Moon PORCH STAGE: (12-7pm)
1. Ruby Rendrag (12:30-1:15)
2 VoSteen (2-2:30)
3 Dangerous D (3:15-3:45)
4. J Burton (4:30-5)
5. Dege Legg (6-6:30)
***ARTMOSPHERE: (11 -2am)
1. Kyle Craft (12:30- 1:15) outside
2. Flowtribe (1:30- 2:15)
3. Juke Joint Jam feat. Taron Lockett (2:30- 3:15) outside
4.
Hatch
(3:30-4:15)
5. The Specklers (4:30- 5:15) outside
6. JAMBANG (6-7)
7. Markings (7:30-8:30)
8.
Caddywhompus
(9- 10)
9. A Living Soundtrack (10:30-12)
10. Matt Rock and the Powerboxx Reunion! (12:30- 2am)
***SADIES NITECLUB: (11-2am) Downstairs:
1. Erica Foxx- Geronimo Kickoff! Free shots!(12-1)
2.
Langolier
(1:30-2:30)
3.
Oso Closo
(3- 4)
4. Bionica (4:30- 5:30)
5. Big Rock Candy Mountain (6- 7)
6. Magic Legs (7:30- 8:30)
7. The CrackBabies (9 -10)
8. The Howdies (10:30-11:45)
9.
Fleur De Tease
- NOLA Burlesque Show! (12:30-2am)
*SADIES (2-2am) Upstairs:
2:00-3:30 - Kellie Greene (jungle/drum & bass)
3:30-4:30 - Black Swan (dubstep)
4:30-5:30 - Jason Robo & Wop (breaks)*
5:30-6:30 - Rekanize (electro/house)
6:30-7:30 - OttO (indie dance)
7:30-8:30 - Unicorn Fukr & Cama Lama (deep house)*
8:30-9:30 - Herb Christopher (minimal/techno)
9:30-10:30 - Smurl (funky house)
SEE YOU THERE! GERONIMOOOOOOOOOOOooooooooo!
----------------------------------------------------------------------------------------------
So if this wasn't enough going on, two days ago I also had the privilege of working and doing PA work with some amazing people I love for a show on the HGTV spinoff channel called The Green Channel. We covered a place called The Edible Garden which is sponsored by Emeril... it's a school garden. Kinda cool. Sure I got coffee and ran errands, but I learned so much. Thanks for the opportunity team... and the sweet check. :)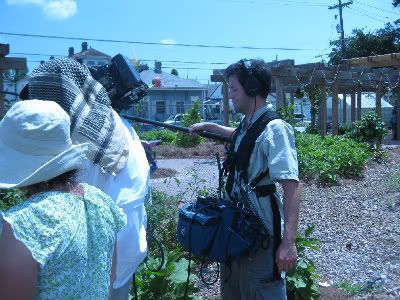 Last week I worked furious hours, saw some of my best friends, Warren, his dad, Laura, and her husband Jon who came to visit from Houston and Fort Worth randomly, saw a bunch of local random homies out, had Snarky Puppy stay over for five days, and had lifetime adventures per usual when they come stay. From five mile bike rides to the sloshed nights with amazing music into the wee hours of the ridiculous morning... I had a blast. It was insane... I am still pretty dazed and confused from the weird, over the top times. Footage to come soon. :) I love you guys so much!!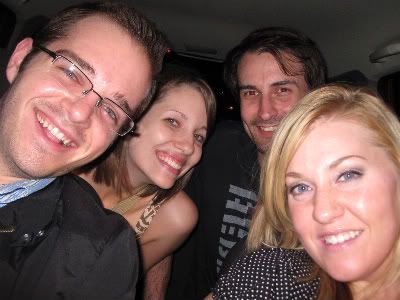 We got a sweet new roommate while Noor is gone... homeboy Chase... good guy.
So much more going on, but I am going to get ready for tomorrow! Huge day! Rock on, and I hope to see some peeps out there. Awesome times! Word. Jenn
Oh yeah, and I redecorated... again. Enjoy. Muah.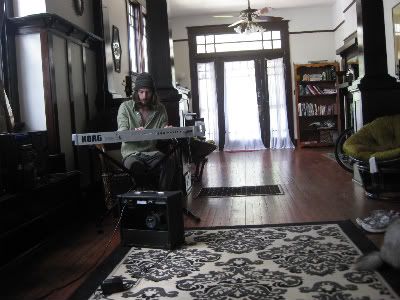 ho chi minh